Listen to the Pilot Episode of Creating Coalitional Gestures now!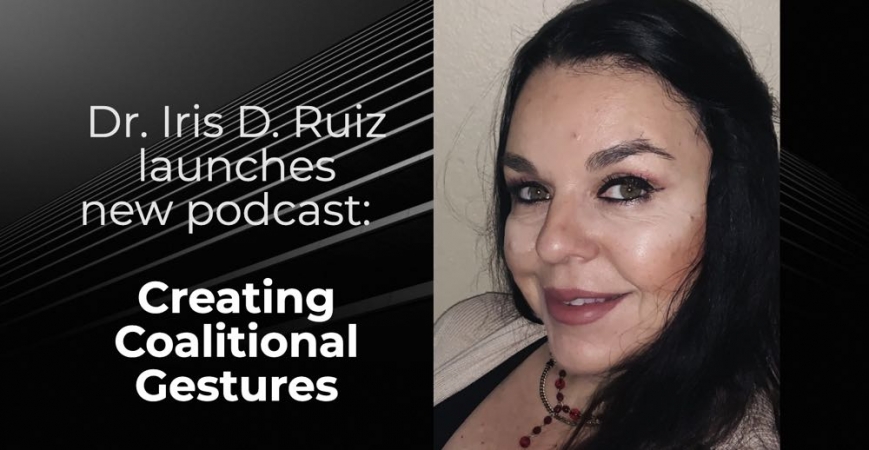 We are excited to announce the launch of Dr. Iris D. Ruiz's new BIWOC Podcast by and for Black, Brown, and Indigenous Women of Color in Writing Studies, titled Creating Coalitional Gestures.  
The pilot episode offers an interview with Samantha Ocena, MWP's Associate Director.  As Don Unger, SPARK editorial collective member and an assistant professor at the University of Mississippi, explains:
In this interview, Ruiz offers a raw and uncut anti-racist and decolonial lens for thinking about race and writing program administration. She's one of the few emerging scholars researching the relationships among race, racism, history, and writing program administration. In this episode, she provides an honest reflection regarding the many challenges of this work, and she addresses the challenges in an effort to encourage anti-racist coalitional gestures within writing studies.
To listen to the pilot episode or read a transcript of the interview, visit https://sparkactivism.com/ccgpodcast/.  
Dr. Iris D. Ruiz is a Continuing Lecturer for the UC Merced Merritt Writing Program and a Lecturer with the Sonoma State University Chicano/Latino Studies Program. Her current publications are her monograph, Reclaiming Composition for Chicano/as and other Ethnic Minorities: A Critical History and Pedagogy, and a co-edited collection, Decolonizing Rhetoric and Composition Studies: New Latinx Keywords for Theory and Pedagogy, in which she also contributed a chapter on the keyword "Race." She's also written several articles and chapters for edited collections. Her 2017 coauthored article deals with race and WPA history, and was published in the CWPA Journal and received the 2019 Kenneth Bruffee award. This work is also currently contracted with Parlor Press for a forthcoming book.
Her most current work centers upon decolonizing curricula, academic space, public space, and disciplinarity. She is currently writing about decolonizing writing conventions by delving into a Nepantla space. Lastly, she has recently launched a podcast, which is a collaboration between Spark Writing and Working for Change Series and scholars in Rhetoric and Writing in an effort to create resilient strategies.
Ruiz has a record of service within Rhetoric and Writing Studies, including: former CCCC Co-Chair, Latinx Caucus, CCCC Resolutions committee, CCCC Task Force on Standing Group Guidelines, CCCC Advancement of Knowledge Book Award Committee, NCTE Committee Against Racism and Bias, Lead Author NCTE Position Statement on Ethnic Studies in K-12, Peer Editor Rhetoric Review, CWPA, Constellations, CCC and, Best of CCCC Independent Journals, Member of Latinx Caucus (2000-current). She is also the founder of the NCTE/CCCC Latinx Writing and Rhetoric Studies journal, which will launch its first issue in the next two weeks.
She envisions this podcast as a healing justice project seeking to transform the impact of BIWOC on the field of Writing Studies. Listen now!
Background Photo by Josh Rose on Unsplash