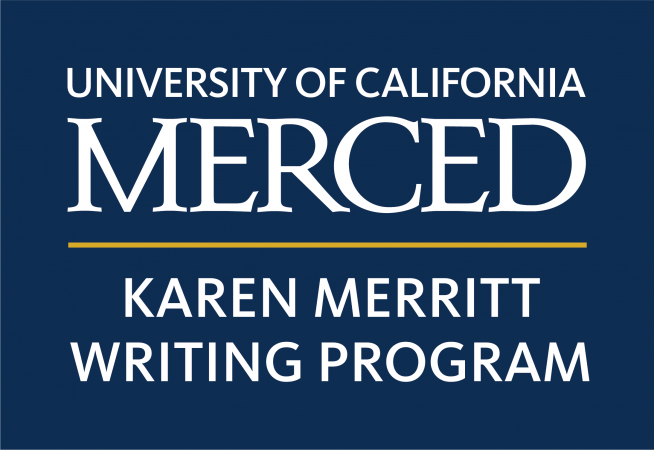 The MWP Program and its faculty have been hard at work this semester. Congratulations for the following achievements!
Merritt Writing Program Good News
The Merritt Writing Program received the inaugural Equity & Justice Award from the Office of Equity, Diversity, and Inclusion
Congratulations to John Bultena & John Haner, the new at-large members to the MWP Advisory Board!
Congratulations to Iris Ruiz, MWP's new assistant director!
Congratulations to the Vernal Pool & Undergraduate Research Journal for the successful launch of this semester's issues. Special thanks to Callie Kitchen & Phillip Lovas for their work with each editorial board. Learn more & read the newly launched issues here.
Faculty Good News:
John Bultena has been hard at work with his stream Abraxas' Precipice. Bultena was a featured guest on The Tightbeam Podcast discussing The Expanse role-playing game & his show, Abraxas' Precipice. The podcast released August 20th on RandomChatter; The Abaraxas' Precipice Stream raised $350 for Take This to help create awareness and provide resources for mental health via their horror one-shot of The Expanse role-playing game last week. They even received a donation from Ty Franck, one of the creators and authors of the best-selling The Expanse series; The Stream will start it's Year 2 with charity stream for Indian Residential School Survivors Society. This episode will include special guest Patti Kim from The Expanse. More information available here: linktr.ee/abraxasprecipic.
Amy Fenstermaker and Anne Zanzucchi's book chapter "Not Just Nuts and Bolts: Building a Peer Review Framework for Academic Socialization" appears in the edited collection, Learning from the Lived Experiences of Graduate Student Writers, which recently picked up an outstanding book award from the 2021 International Writing Centers Association.
Christa Fraser was the recipient of the UC Merced's 2021 Non-Senate Academics Councils' Award for Service.  This semester, Fraser also read from her short story collection-in-progress and did a Q&A for Chinelo Okparanta's advanced fiction workshop at Swarthmore College; had a poster proposal accepted for the 2022 CCCCs; and had a panel, "Teaching Creative Writing for the Global Classroom" (with colleagues fromt he International Writing Program) accepted for the 2022 Association of Writing and Writing Programs (AWP) Conference.
Leo Ríos's short story "Vagabond" has been published in The Georgia Review. It is featured here.
Helen Sandoval co-presented at this year's Conference on Community Writing (October 21-23) with Dawn Trook. Their presentation was titled "(Re)Defining Community: Challenging Structures of Oppression Within the Academy and Beyond." Additionally, Sandoval has been accepted to CCCC's 2022 in Chicago where she will be presenting with Ana Milena Ribero (Oregon State) and Audrey Cisneros (University of Texas at El Paso).
Matt Snyder's band, Eye of Aquila, has been nominated for a Modesto Area Music Award (MAMA) in the category of Hard Rock/Metal. You can vote for Eye of Aquila at www.modestoareamusic.com/vote!
Dawn Trook taught a workshop titled "Linguistic Justice: Teaching Poetry in Multilingual Classrooms" at the California Poets in the Schools 2021 Virtual Poetry Sympsosium, "Poetry for Hope & Resilience."  Trook also co-presented at this year's Conference on Community Writing (October 21-23) with Helen Sandoval. Their presentation was titled "(Re)Defining Community: Challenging Structures of Oppression Within the Academy and Beyond."
Samantha Tetangco Ocena has been cohosting and coproducing Plume: A Writer's Podcast, which just completed its second season (currently has over 1500 downloads). You can listen to the Season 2 finale episode here. Additionally, Ocena will be co-presenting on the panel, "The Medium is the Message?: Writers Working Across Genres" alongside Suzanne Richardson, Casandra Lopez, Lev Keltner, & Jen Soriano for the 2022 Association of Writers & Writing Programs (AWP) Conference.
Estee Beck's collaborative article with former undergraduate students, "Critical Digital Literacy as Method for Teaching Tactics of Response to Online Surveillance and Privacy Erosion" is published with Computers and Composition. Beck  has also been accepted to CCCC for a co-presentation with collaborator Christina Montgomery at UT-Dallas.